100+pc Lot!Vtg Collage Art/Junk Journal Paper SAMPLER PACK~Antique Ads&Ephemera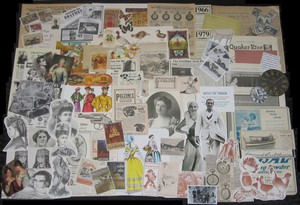 ---
~*#*~ WELCOME TO ~*#*~
~ KARIZMA'S KLOSET! ~
Personalized Service with FAST Shipping!
Vintage Scrap Collage SAMPLER Pack! ~ 100+pcs!!
~ great for scrapbook, junk journal making, decoupage, vintage collage art, mixed media projects, etc! ~
this is the LAST ONE... get it now ON SALE for $9.95! 
you will receive the ACTUAL pieces shown in the photos :o) 
includes: 
(1) original article from 1914 Home Life magazine
(3) 1950s children's illustrated book pages
(1) illustrated page from early 1900s Munsey's magazine
(1) illustrated page from an antique 1873 History book
(2) color plates from an old dictionary
(2) calendar strips with news headlines and highlights from that particular month and year
(2) Japanese manga comics cuts
(1) portrait of a 'spiritist' from a vintage book
 (2) notes and (1) postcard embellishment cut from scrapbook paper
(10) original ads from magazines circa 1893-1907 including four that are full page (several have ads on the reverse as well!)
(3) vintage black and white "rhythm and blues" music posters/ads (repros - removed from a source book)
(2) 1900s Sears catalog (1970s repros) 'watch' pages (one large and one small) plus (3) smaller watch/clock cuts
(2) color fashion plates plus (2) large 'people' cut outs (lady and gent) plus (4) smaller fashion/people cuts
(4) lovely Victorian girls wearing hats
(7) 'sepia' cuts from an old cookbook
 (10) world paper money images
(5) black and white 'collectible' ephemera item cuts
(3) small Victorian cat cuts including one Halloween and two Valentine themes
(5) small black and white buildings (church, train depot, capital bldg, etc)
(2) furniture/stove cuts from a home decorating book
(10) postage stamp images (mix of color and black and white)
(3) beautiful vintage color label cuts
(2) butterfly/moth cuts
(6) magazine clippings from a 1951 Sunset magazine
(1) fun 'anywhere' activity card
(5) small movie and/or music poster cuts
(1) typography cut
just OVER 100 pieces per pack!!
I take great care and time in creating these vintage 'samplers' to provide a unique assortment of quality items at a fair price that you will not find elsewhere.  I hope you will agree. :o)  I also have several of these items listed individually and/or in smaller 'samplers' to try to best meet the needs of my creative customers!  AND a HUGE THANK YOU to my wonderful customers who keep me inspired!  I couldn't do this without you!
PLEASE NOTE: some of the book pages are very old and the ink/paper mixed with being in storage may exude that 'old book' smell... which I personally enjoy, but if you're not a fan... then please re-consider your purchase as I do not want you to be disappointed or unhappy in any way.
from smoke-free home
ENJOY!
Thanks for stoppin' and shoppin'! - Kari :o)
FAST SHIPPING!  I know when I buy something I want it as quickly as possible, so I assume you do, too!  Therefore, FAST shipping is a TOP PRIORITY!  Upon receiving your cleared payment your item is carefully packaged up and shipped out within 24-48 hours.  If for some reason there is a delay, I will email you.  A run to the post office is made M-F (usually in the mornings so payments received after 3pm are treated as next day sales).  Since our PO is closed on the weekends, items paid for on Friday, Saturday and Sunday are shipped out the following Monday.
Combined S/H Discounts: On MOST items (excluding free shipping - which is free! Or unless otherwise noted under the 'shipping and payments' tab) I follow the standard practice of adding $1 for each additional item purchased based on the highest s/h charge shown. If the total weight of the items bumps the package into the next USPS weight tier, then I use that cost+handling+$1 for each item. I am always happy to provide a quote prior to your purchase, too!
My :  I love what I do and the customers I serve :o)  I check emails frequently and try to reply the same day.  I usually take weekends off to be with my family and to honor and serve our Lord and Savior.  I thank you in advance for respecting my time as much as I respect yours!  May the Lord bless you and keep you. Thank you so much for stopping by!!  Ecclesiastes 3:1  "There is a time for everything, and a season for every activity under heaven."